There are lots of cheap and cheerful slippers out there. But where can you find eco friendly, sustainable slippers that go with your organic cotton pyjamas and will keep you cosy and warm for winters to come?
Here's our list of the best eco friendly slippers.
Baabuk specialise in felted wool slippers. Wool is a great sustainable product, it's eco friendly, durable and it's biodegradable. Baabuk sustainable slippers are made from felted wool. Felted wool is made by pressing long strands of wool together onto a shoe mold. Its shape and structure comes from many layers of pressed wool. This means the slippers don't lose their shape and still look good years later.
Baabuk is family owned, in business for just over 10 years, they have dedicated themselves to doing the right thing. Their slipper wool comes from New Zealand and the slippers are crafted in Nepal. They have control over their entire manufacture process enabling them to ensure high ethical standards.They pay their factory workers more, support women and ensure no child labour is used. Actions like this have enabled them to become B Corp certified.
Baabuk makes exceptionally comfortable, wearable and durable ethical slippers.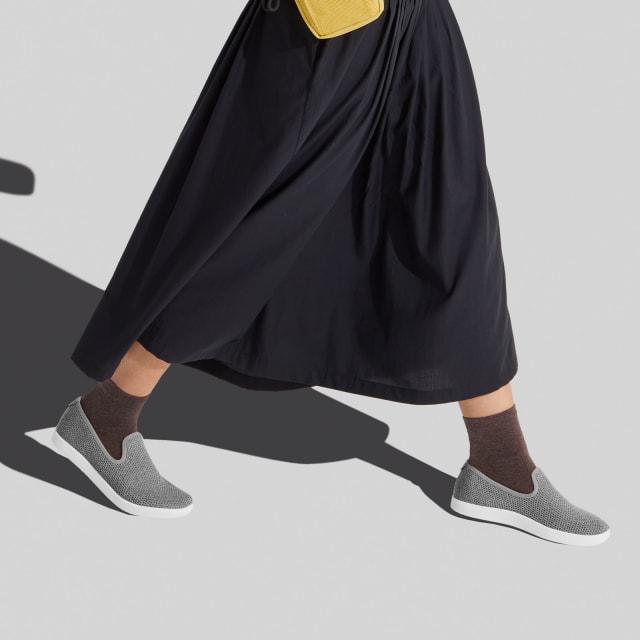 Allbirds are a B Corp Certified brand serious about transparency and ethical standards. They also make very comfortable shoes. I'm a big fan of Allbirds and believe them to be one of the best ethical sneaker brands available today (I own a pair and they are my favorite go to shoe for everyday wear). Allbirds wool and tree loungers are made from silky knitted tree fibres or wool and have a light flexible sole. This makes them easy to wear indoors and out, keeping you both cosy and cool at the same time. Allbirds are committed to reducing their carbon footprint and if my sneakers are anything to go they make shoes that last and look good for years.
Kyrgies classics are felted wool slippers, made from mulesing free wool from small family run farms. Each pair is made by hand and with traditional methods in Kyrgyzstan. Kyrgies are committed to adhering to environmental and human rights standards and are climate neutral certified when manufacturing their ethical slippers. They also joined 1% for the planet in 2017.
Chilote sustainable wool slippers are not made in a factory, each pair is handmade by a network of artisan women in Patagonia. Women are able to maintain their unique craft and culture. Their work empowers communities. Chilote make eco friendly slippers, climate positive and B Corp. certified. The Raw wool feel slippers will conform to the shape of the wearer's own foot and come with a repair kit to extend the life of the slipper. Or if you are crafty it can be used to personalise your slipper. Each pair also comes with a QR code that transparently tracks its origins back to a specific artisan group and location in Patagonia.
Toast is socially conscious. They make products that are durable and source quality fabrics and natural fibres that are biodegradable. They have long standing relationships with suppliers and ensure suppliers adhere to Toasts ethical policies. From next year Toast will be publishing a social conscious report offering detailed updates into their sustainable actions and how they are progressing. Their V-front felted wool ethical slippers are made in a factory in Nepal that follow fair trade principles. Their Jute Clogs are made with hand plated hardwearing jute and finished with a natural rubber sole.
Thought began from the founder's love of natural and sustainable fabrics. Thought is committed to considered design, responsible sourcing and fostering change. Their Yoko wool siberian slipper are eco friendly, made with local Irish wool and a non slip sole. The slippers are plastic free with excellent thermal insulation. Thought also stock Junetta bamboo organic cotton slipper socks with a fluffy recycled polyester interior to keep your toes cosy all winter.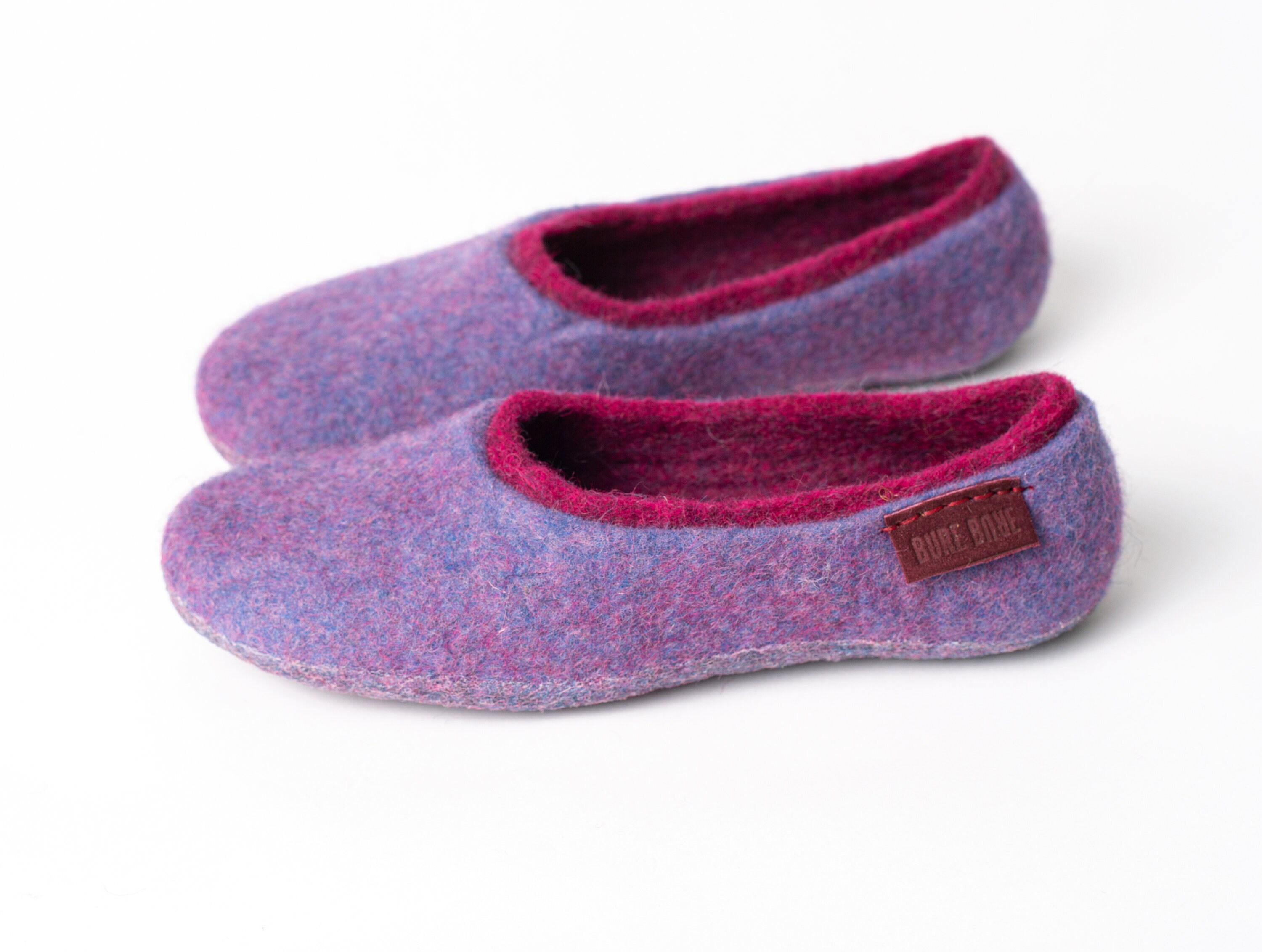 BureBure makes authentic, hand felted shoes and handmade wool slippers that come in reusable linen packaging. They combine felting traditions with modern ergonomic design, support zero waste and friendly sheep breeding. They stock womens, mens and some seriously cute kids' slippers. Their green frog kids slippers will bring a smile to any child's face.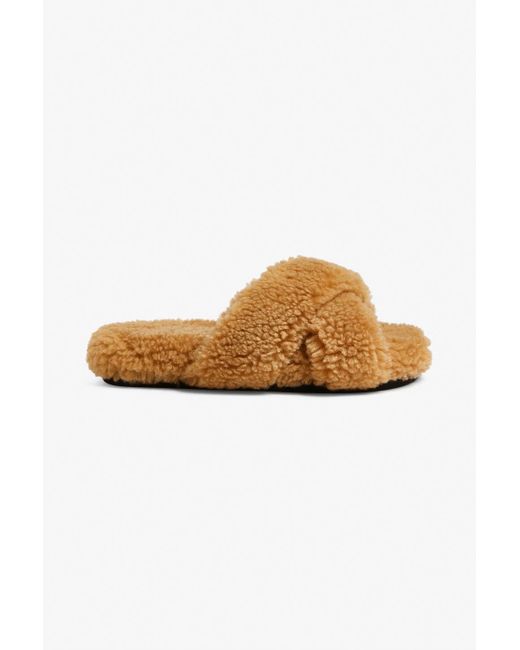 Monki align themselves with 2 of the United Nations Sustainability Development Goals. Gender equality and sustainable consumption and production. Monki suppliers have to report annually on the code of conduct which includes equal rights and fair living wages.
You can feel good about wearing your Monki Teddy slippers made from recycled polyester.
Nootkas
The name Nootkas was inspired by childhood fishing trips to Nootka Island in British Columbia. Nootkas founders like to find joy in the simple things, family, friends and healthy living and believe using sustainable fabrics is a form of self care. They try hard to keep products free from plastic, chemicals and synthetic fibres that could irritate skins.
The hand felted Astoria slippers are fair trade and made in Nepal using cruelty free merino wool from New Zealand. The sole is made from suede. The naturals are made from natural materials, un-dyed, uncoloured wool that represent the natural colour of the sheeps wool. They are also biodegradable, breathable and naturally odour resistant.
Aura Que
The Aura Que range is made in direct collaboration with fair trade producers. They help connect traditional producers with customers. They create products to be treasured that have been handcrafted. Designed with integrity Aura Que are on a mission to develop the most ethical and eco-friendly supply chain they can.
The Bidi slipper boots have inside sole padding which will mould to your shape to keep you comfortable and toasty. The sole is made from buffalo suede from a small family tannery in Kolkata which is road freighted to Kathmandu. Here the slippers are hand felted by a woman's co-operative. They are then air dried in the sun and the soles are machine stitched on. They can easily be spot cleaned with a damp cloth.