However for some they can be expensive or you may just want a different look but still want your wool shoe to be eco friendly. 
In this post we are going to look for wool shoes like Allbirds and see if they match up.
History of Allbirds
Allbirds shoes have only been in business since 2016 and since then they have made a big impact in the shoe world and are considered high quality footwear. Their first shoe was the allbirds wool runners and they now stock many style variations. They have made the consumer think more about sustainability and their carbon footprint while at the same time creating a desirable product.
Allbirds is B Corp Certified and claims their shoes are as eco friendly as possible. Co founder Tim used to make leather shoes for friends, in 2014 he received a grant to create a shoe made from wool. He teamed up with Joey, a renewable materials expert, together they raised funding and launched Allbirds in 2016. 
Today Allbirds is a billion dollar company listed on the NASDAQ with a loyal following. Their wool runners are described as being unbelievably comfortable shoes which are constructed with quality materials and sustainability in mind. 
So are there any casual shoes like Allbirds on the market and how do they stack up?
Read on for a round up of shoes like Allbirds / Allbirds alternatives
Shoes like Allbirds
Baabuk Urban Wooler
Baabuk is not as well known as Allbirds but they do produce a comparable product. 
Their Urban Wooler is designed in Switzerland and produced in Portugal. Baabuk also uses mulesing free sheep wool for the fabric and a TPU thermoplastic durable sole. 
They are also B Corp certified and are committed to running an ethical business. If you live in Europe your Baabuk shoes will probably have travelled less miles to reach you.
Like Allbirds these shoes are also machine washable and have great reviews.
8000Kicks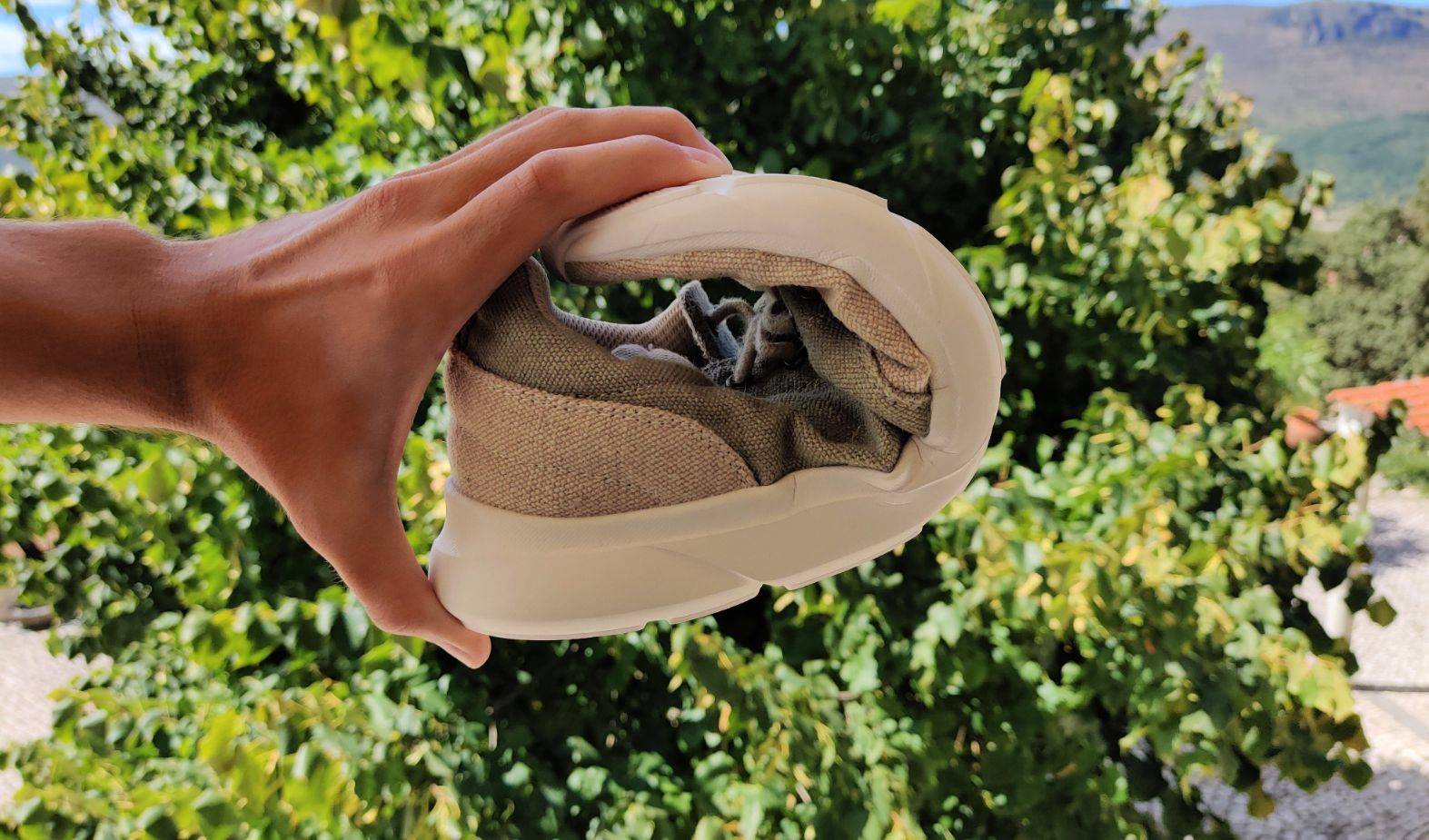 Marketed as the world's 1st waterproof hemp shoes, 8000kicks is on a path to turning hemp from hippie to cool. 
Hemp is a really easy to grow and resilient plant. It can re-grow 3 times a year, it's durable, and it's very sustainable. It's similar to linen but 10x stronger than cotton, making a great fabric for shoes.
The shoes are strong, flexible, and durable. They are also splash proof and dust proof. Their carbon footprint is 4.1kg of CO2 lower than the Allbirds tree dasher at 9.6kg.  They also work with their factories to use more renewable energy. Although one of its factories is in China it still manages 30 – 40%  of its energy from clean energy sources. They also invest in offsetting. 
They sometimes sell out however they are a sustainable and interesting Allbirds alternative.
Click here for 10% off 8000kicks
Tropic Feel
Tropic Feel makes sustainable all terrain sneakers. Suitable for anything from walking to swimming, yes you can swim in them! Billed as the only shoe you need to pack.
Although not made from wool, each pair is made from up to 8 recycled plastic bottles. Soles are part made with algae which when harvested helps to protect aquatic life, and the midsole is made from 20% recycled EVA.
Tropic Feel states that there are no hazardous chemicals in the final product and if used during the manufacturing process they are disposed of responsibly. 
They endeavour to be transparent in their manufacturing and detail the product cycle from raw material to the exact factories that process the fabric to where it is packaged.
They are also working with Climate Neutral to measure and offset carbon and help reduce emissions.
Vessi
Typical manufacturing for shoes can take a long time and consume a lot of energy and water. Vessi wanted to change that and also remove any type of animal product to make a vegan shoe.
Compared to conventional manufacturing practices they use 30% less water and 600% less energy. They are also 100% vegan and waterproof. They are made with a membrane of polyurethane, which consists of millions of tiny pores which keep water from entering while at the same time letting heat and moisture escape.
They also have thousands of great reviews.
Urban Fox Wool Sneakers
Urban Fox is an amazon own brand, although they look very similar to Allbirds, any further comparison stops there. 
These shoes are made from 70% wool and 30% polyester, and there is no mention of the origins of its materials. Blended materials can sometimes pile quicker.
The soles appear thinner than their Allbirds counterpart and there is no mention on how to clean the Amazon version.
One of the key selling points of Allbirds is their sustainability message, there is no indication that any effort has been made to be sustainable in the production of these shoes. 
Urban Fox is limited in colour and style. If cost is your only deciding factor then these would be the shoes for you.
Shoes like Allbirds
We hope you like our shoes like Allbirds and have found an suitable alternative to Allbirds. If price is a dertermining factor most of the shoes as in a similar price range, quality shoes are more expensive, however if you consider cost per wear then quality usually surpases shoes made to a low price point. If none of our Allbird alternatives suit you Allbirds are a great shoes and well worth the investment.
To read more about sustainable slippers click here or sustainable flats click here.