Comfortable and easy to wear, sustainable flats provide a stylish alternative to heels. Knowing that your flats are sustainable will add an extra bounce to your step.
From loafers to ballerinas, pumps, slingbacks and sandals we've got you covered. Here is our round up of sustainable flats, so while you may be pounding the streets you will tread lightly on the planet.
Sustainable flats for ethical feet
Sustainable flat sandals
Nisolo
Nisolo takes a holistic approach to their social and environmental responsibility. To them sustainability means living wages, pursuing 0% Net Carbon, unprecedented transparency, and accountability.
Nisolo has a great variety of sustainable flats and sandals, from woven leather to slip on mules and sandals. Their best selling woven Huarache is available in a range of natural colours, made from soft woven water resistant leather that is certified by the leather working group. These are a great option for everyday sustainable flats that look both stylish and classic and are bound to be comfortable with their cushioned foam midsole.
Nisolo is a corp b certified company with a rating of over 100. The average for companies is 59. Nisolo is also a company where its business model is intentionally designed to have a specific positive outcome for one of its stakeholders.
Nisolo also scores its products across 200 sustainability metrics and publishes the results with the products so you can have a clear picture of ethics and sustainability.
Toms
Well known shoe brand Toms have a whole range of sandals! If their iconic alpargatas are anything to go by, their sandals will be a great addition to the range. 
Toms put their money where their mouth is and  invest ⅓ of their profits into grass roots projects. With cash grants available for community projects helping them to scale and be more sustainable. What stands them apart as a sustainable business is their willingness to transparently report on their progress and Toms publish an annual impact report to help you track their progress. 
Their materials are not as sustainable as they could be however they are documenting and setting goals to achieve. Their earthwise range looks to use more organic cotton, recycled polyester, and eco fibres. They are also certified by many reputable environmental groups like canopy.
Girlfriend Collective
Girlfriend collective believe in ethical manufacturing and recycled materials. If you are not familiar with the brand they make clothes that are inclusive of all shapes and sizes and now they also make shoes, well slides. Their first shoes are recycled and fully recyclable! 
Girlfriend collective have partnered with an Atlanta based factory to produce slides made from a blend of old shoes, scrap materials, and a soy based compound. This all results in a comfy lightweight sandal that also treads lightly on the earth. They can be hand washed, machine washed, and even put on the top rack of your dishwasher! They are also practical, being waterproof and slip resistant, as well as vegan and cruelty free. 
Sustainable flat shoes
Allbirds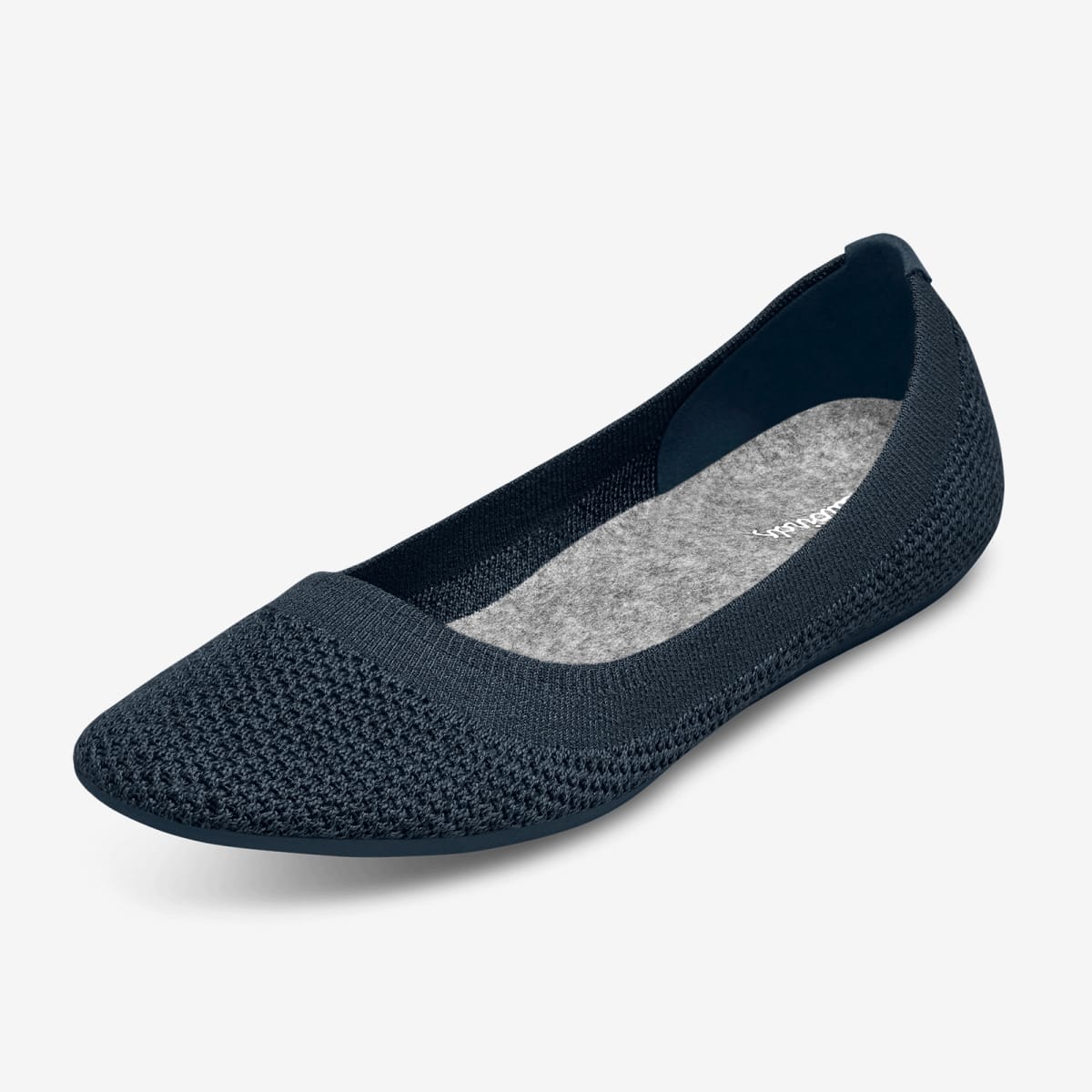 Allbirds shoes are super comfortable, their flexible texture and supportive insole will give your feet more support than your average flat shoe. These flats are made of renewable materials and are machine washable. The lightweight eucalyptus fibre responsibly sourced from FSC certified forests is breathable and helps minimise odour. They also have a ribbed collar to help them stay on and fit better.
Allbirds are well known for their sustainability, they try to minimise their carbon footprint for each product and what they can't, they purchase carbon offsets. They aim to reduce their carbon footprint in half by 2025 and reduce to nearer zero by 2030. They are fully transparent about where they are now and where they want to get to and have a plan on how to do it. All steps in the right direction.
Rothy's
Rothy's make their shoes with sustainability in mind. Their goal is to achieve a closed-loop production model by 2023. This means that shoes are designed to last and there will be an end of life solution for every pair of shoes. In 2021 they recycled 20,000 pairs of shoes and in 2022 they are looking at how they can use twice recycled thread into new products. 
Rothy's own and operate their own factory in China. Their production methods bypass the traditional cut and sew methods and use knit to shape practices which reduces waste. They give thought to the materials they use from recycled plastics, including 125 million plastic bottles which have been turned into thread. They also use algae based foam and natural rubber which both go into making the base of Rothy shoes.
Rothy's The Point flats are a classic everyday shoe that come in a variety of patterns and colours and are machine washable. Made from sand and plastic, they defy shoe conventions and help you make a more conscious shoe choice without having to compromise on style and comfort.
Able
Able's mission is to empower women through fashion. 90% of staff are women and they are committed to supporting women from all around the world and throughout their supply chain, especially those who have overcome extraordinary circumstances or lack opportunity.
Sustainability is also a consideration in the production process. Their design process prioritises quality and longevity and eco friendly materials are used where possible. All their items have a lifetime guarantee.
They have a great selection of sandals and flats from the Tracy Mule to the Cassie Sandal.
We hope you have enjoyed our roundup of eco-friendly flat shoes. Of course the most sustainable option is to repair and reuse. But if your shoes are at the end of the line the brands we've featured have ethics and purpose to support their sustainable credentials.
To find out more about easy ways to be more sustainable click here.
Read our post about the best sustainable slippers here